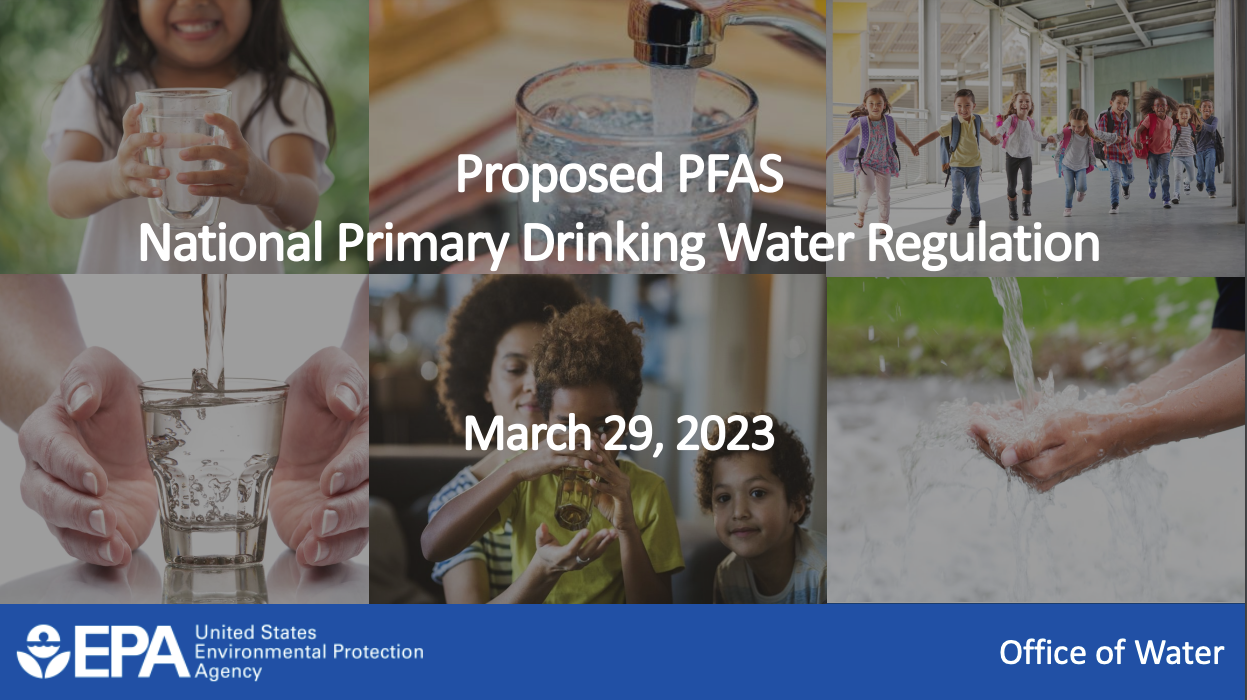 Hi all…the USEPA has just proposed MCLs for PFAS compounds. They are requesting comments in much the same way Health Canada does (albeit quite a bit more complicated). Here's the link to the main website: https://www.epa.gov/sdwa/and-polyfluoroalkyl-substances-pfas. Note that there are two associated webinars and there is a lot of supporting information available.
"EPA is proposing a National Primary Drinking Water Regulation (NPDWR) to establish legally enforceable levels, called Maximum Contaminant Levels (MCLs), for six PFAS in drinking water. PFOA and PFOS as individual contaminants, and PFHxS, PFNA, PFBS, and HFPO-DA (commonly referred to as GenX Chemicals) as a PFAS mixture. EPA is also proposing health-based, non-enforceable Maximum Contaminant Level Goals (MCLGs) for these six PFAS."
Compound
Proposed MCLG
Proposed MCL (enforceable levels)
PFOA
Zero
4.0 parts per trillion (also expressed as ng/L)
PFOS
Zero
4.0 ppt
PFNA
1.0 (unitless)

Hazard Index

1.0 (unitless)

Hazard Index

PFHxS
PFBS
HFPO-DA (commonly referred to as GenX Chemicals)
Bill
______________________________________________________________________________________
Per- and Polyfluoroalkyl Substances (PFAS) Proposed PFAS National Primary Drinking Water Regulation
"On March 14, 2023, EPA announced the proposed National Primary Drinking Water Regulation (NPDWR) for six PFAS including perfluorooctanoic acid (PFOA), perfluorooctane sulfonic acid (PFOS), perfluorononanoic acid (PFNA), hexafluoropropylene oxide dimer acid (HFPO-DA, commonly known as GenX Chemicals), perfluorohexane sulfonic acid (PFHxS), and perfluorobutane sulfonic acid (PFBS). The proposed PFAS NPDWR does not require any actions until it is finalized. EPA anticipates finalizing the regulation by the end of 2023. EPA expects that if fully implemented, the rule will prevent thousands of deaths and reduce tens of thousands of serious PFAS-attributable illnesses."
EPA is requesting public comment on the proposed regulation. The public comment period will open following the proposed rule publishing in the Federal Register. Public comments can be provided at that time at www.regulations.gov under Docket ID: EPA-HQ-OW-2022-0114. Information on submitting comments to EPA dockets can be found here.
EPA will be holding two informational webinars about the proposed PFAS NDPWR on March 16, 2023, and March 29, 2023.