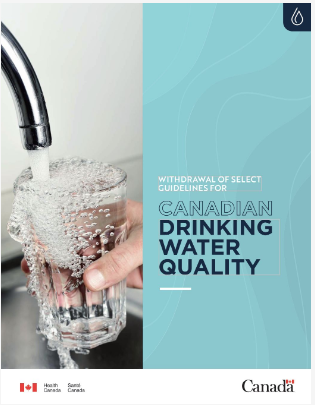 Hi all…Health Canada has withdrawn the existing Guidelines for Canadian Drinking Water Quality for 17 chemical substances, including 13 pesticides. The rational was described as being no longer required since these contaminants are unlikely to be found in Canadian drinking water at levels that may pose a risk to human health. The guidelines for the following pesticides were withdrawn: azinphos-methyl, carbaryl, carbofuran, diazinon, diclofop-methyl, diuron, metolachlor, paraquat, phorate, picloram, simazine, terbufos, and trifluralin. The other chemical substances withdrawn were 1,2-dichlorobenzene, 2,4-dichlorophenol, 2,3,4,6-tetrachlorophenol, and monochlorobenzene. However, two of the compounds that were included in the withdrawal of select guidelines, diuron and diazinon, were assigned drinking water screening values of 0.03 mg/L (30 µg/L) for Diuron and 0.015 mg/L (15 µg/L) for Diazinon.
"Health Canada's screening values identify limits for contaminants in water that could be used as a source of drinking water. A lifetime of exposure to these contaminants up to the screening value, both by drinking the water or by using it for showering or bathing, is not expected to increase health risks for any Canadian, including children. Screening values are established for contaminants that are not commonly found in Canadian drinking water (either source or treated) and therefore Guidelines for Canadian Drinking Water Quality are not established. Health Canada establishes screening values for contaminants at the request of federal departments, provinces, and territories (jurisdictions). These requests are usually made when there is a concern for human health because the presence of a contaminant is suspected or detected in local source water and that contaminant does not have an established limit in drinking water. Since 2020, the technical summaries for screening values are typically published online when Health Canada expects that screening values may be needed by more than one stakeholder or jurisdiction. Screening values do not replace or supersede existing regulations. However, screening values may help jurisdictions and the public understand the potential health effects of a contaminant. Screening values are based on a review of scientific research and international regulatory information available at the time of their development. For pesticides, screening values align with the evaluations done by the Pest Management Regulatory Agency (PMRA), the lead authority for the safety of pesticide use in Canada, to ensure consistency. Health Canada is committed to keeping pace with new science, including the potential health risks from contaminants that are not typically found in drinking water and do not have Guidelines for Canadian Drinking Water Quality. To this end, Health Canada includes contaminants with screening values in its cyclical prioritization of contaminants for full guideline development."
At a recent meeting, we wondered how provinces and territories handle contaminants when guidelines are withdrawn. The guideline states "The withdrawal of a GCDWQ (guideline) would remove the need or obligation of provinces and territories to routinely monitor for the given contaminant, thus allowing Canadian jurisdictions to focus their efforts on contaminants that continue to be a concern for human health."
Bill _____________________________________________
On February 4, 2022, Health Canada also released the Guideline Technical Document – 2,4–Dichlorophenoxyacetic Acid. The maximum acceptable concentration (MAC) for 2,4-dichlorophenoxyacetic acid (2,4-D) in drinking water is 0.10 mg/L (100 µg/L).